Where to find Anastasia Higginbotham signing books and giving talks and workshops around the country.
For more information about the Ordinary Terrible Things series, request an interview, or book a talk or workshop, please click here.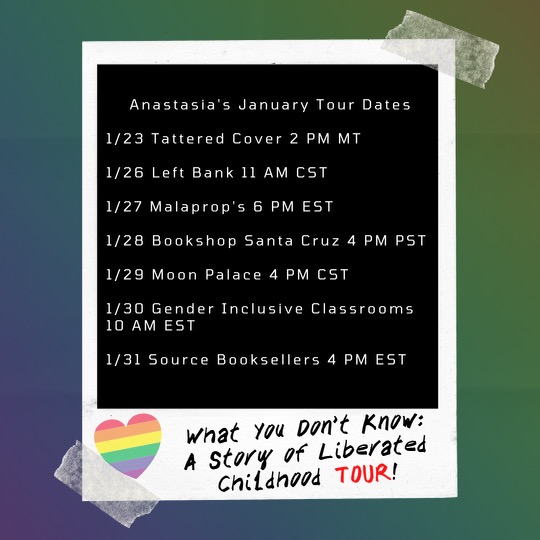 Sat. 2/6 1PM MT—FORT COLLINS, CO
Anastasia Higginbotham: Roller-Skate Collage Party! With Old Firehouse Books
Wed. 2/10 6PM CST—CHICAGO
Free and Queer! Seminary Co-op presents Anastasia Higginbotham in Conversation with Betsy Bird
Sat. 2/13 11:30AM EST—BROOKLYN
Greenlight Books Story Time and Roller-Skating Collage Workshop with Anastasia Higginbotham
Sat. 2/20 4PM CST—MINNEAPOLIS
Wild Rumpus presents Anastasia Higginbotham (Virtual Roller-skating Party interactive event)
Sat. 2/27 11AM MST—TEMPE/PHOENIX
Changing Hands Virtual Kids Author Book Event— Anastasia Higginbotham: What You Don't Know: A Story of Liberated Childhood
Sun. 2/28 2PM EST—KINGTSON, NY
What You Don't Know Book Launch with Cygnets Way
Thurs. 4/22 10AM EDT—SOUTH HADLEY, MA
Roller Disco Party: Anastasia Higginbotham at Odyssey Books
Links to the bookstore talks can be found HERE!
MORE DATES WILL BE ADDED SOON!
You can invite Anastasia to your colleges, schools, bookstores, and libraries by using the contact page.
Please sign up to receive notifications of future events here!